Posts Tagged 'Convention Center'
The City is proposing to borrow almost $200 million to build a Convention Center Hotel.  Let me show you the $130 million subsidy from the general fund that is needed to build the hotel.
Private investors
The City has been asking private investors for years to consider building a convention center hotel.  Private investors have said NO!  Their message is that the hotel does not make financial sense. (1)
That doesn't work – so now what?
Public-owned hotel
If the hotel is owned by the Rio Nuevo, the hotel won't have to pay property taxes and many other taxes.  Plus, Rio Nuevo can borrow money at lower rates than private business because they can issue tax-exempt bonds; this is very helpful because we have to borrow almost $200 million to build the hotel.  This should make the hotel profitable…but NO, the hotel would not be able to make the debt service payments of $16 million/year. (2)
That doesn't work – so now what?
Special site-specific taxes
How can we make the debt service payments?  Here's an idea, let's impose a bunch of special taxes if you stay at the hotel or hold an event at the convention center.  Over the life of the bonds, these taxes will be over $100 million.  This money could go to the general fund to help pay for core services.  Instead, the money is needed to pay for debt service.  You would think that a $100 million subsidy, no property taxes, and lower interest rates would be work… but NO, the debt service coverage is still not sufficient. (3) (4)
That doesn't work – so now what?
Direct cash subsidy from the City
 What if we have the City make a direct cash subsidy of $1.1 million/year for the life of the bonds?  This will provide over $30 million.  So now we have over $130 million of cash subsidies and you would think we should be able to finance the hotel…but NO!  (5) 
That doesn't work – so now what?
City guarantee
What if the City of Tucson (i.e. Taxpayers) guarantees the loan if the hotel turns out to be a bust?  This has to work because the city is in such great financial shape that investors should be chomping at the bit to loan $200 million for the hotel.  Well guess what…we now learn that investors still are not interested. (6)
That doesn't work – so now what?
Hoping and praying
Several City officials have stated that the new plan is to:  Let's wait until next spring and hope investors change their mind. 
No property taxes, lower interest rates, $130 million subsidy, City guarantee – at some point you have to come to the conclusion that the hotel is not a good idea.  Let me ask you: is owning a hotel a 'core service' for the City?
Footnotes:
(1)    Page 45:  "…the Public/Private model is not available…"
(2)   Page 45:  "…bonds secured solely by project revenues cannot be issues…"  Pages 57-61 show debt service of $11.5 to $16.2 million/year.
(3)   Page 45:  "…even if project revenues are used, there would be a financing gap… site-specific transient rental tax (6%), site-specific city sales tax (2%), new convention center surcharge (2%)…" 
(4)   Page 58:  $3.12 million in 2019;  $3.72 million in 2025
(5)   Page 45:  "…to create an acceptable risk profile…, it is recommended that additional revenue be pledged…"
(6)   Page 45: "…government credit support is required…"
 Read the report HERE.
From Antiplanner.com. The notion that real cities have big downtowns is firmly ingrained in the minds of many urban planners and city officials. As Joel Garreau points out in Edge City, this ignores the fact that such downtowns were only built for about a century, from roughly 1820 to 1920.
Modern cities, which planners deride by calling them "sprawl," have job centers spread out all over the place. San Jose, Phoenix, and Los Angeles are all typical examples. Planners and officials try to re-create obsolete downtowns by building pork-barrel projects such as convention centers and giving developers huge subsidies for hotels and office buildings. This enriches developers and contractors, but it never really creates a "real" downtown.
Downtown Los Angeles, for example, has less than 4 percent of the jobs in the region and does not even have as many jobs as Long Beach. Downtown San Jose is pathetic as a downtown: it has a few restaurants and a heavily subsidized hotel or two, but most of the real jobs are scattered around other parts of Santa Clara County. If you want a real "lively streets" experience, go to Santana Row.
Now Phoenix has succumbed to the downtown mania. As the Arizona Republic reports, this year the city will open a $1.4 billion light-rail line, an expanded convention center (because the existing one wasn't losing enough money) costing $600 million, at least $350 million in subsidies to a new Sheraton Hotel, and hundreds of millions in subsidies for a downtown campus of Arizona State University.
Just what this country needs: another failed convention center. And why does ASU need a downtown Phoenix campus anyway? Isn't Tempe a prestigious enough address for it?
Of course, Phoenix doesn't limit its subsidies to downtown. The city is providing $100 milion in subsidies to a new, mixed-use development (another utopian planning scheme) on the edge of the city. This is part of a "border war between adjacent cities over who could give away the most to attract the best retailers." The Goldwater Institute is suing the city to stop this subsidy.
The definition of insanity is doing the same thing and expecting a different result. These giveaways are nothing more than a way to satisfy political egos, transfer tax dollars to favored developers, and give urban planners a chance to try their insane theories.
I'm a new author to this blog and appreciate the outlet to set some facts straight. I'm concerned that the local media is missing the mark on some of the Rio Nuevo issues and thought I would take a moment and bring the readers another viewpoint. There was a meeting last week at the State Legislature Finance Committee on the future of Rio Nuevo TIF funding. You can catch the video HERE.
Want to see how a real city has used TIF as a professional economic development tool, to leverage enormous commercial growth in its downtown?  Let's look to our nation's capital, of all places, where Downtown D.C. has experienced a renaissance in recent years.  
Check out this Power Point presentation that explains how a TIF has been used to stimulate significant investment of hotels, retail, and a museum that is part of a mixed-use development, in the District of Columbia.
Click on "TIF Case Studies_Washington D.C.ppt".
With the recent acceleration in criticism of Rio Nuevo and its possible termination at the hands of the state legislature, I have heard and read many misconceptions about how the Rio Nuevo TIF works and what the City did wrong in creating this mess.  The City did a lot of things wrong, strategically and tactically, with things done and not done, and unfortunately some of the things it did right have been too little, too late to save it from its likely fate at the state capital.  
But the trouble started with how the district was drawn back in 1999, four years before the City even started collecting TIF revenues from the State of Arizona.  Last week Rio Nuevo Director Greg Shelko was bothered that the Senate Finance Committee brought up how the district was drawn—again—but to bring this up is not just dredging up the past, or about revisiting outdated criticisms or old grudges.  The way the boundaries were drawn is more than an inconvenient truth about Rio Nuevo.  It is the fundamental truth about Rio Nuevo and why it hasn't lived up to its enormous promise.  
Rio Nuevo was handicapped before it even began by decisions that were made several months before the voters approved the project in November 1999.  The City decided to draw up a district that included property from "A" Mountain all the way down Broadway to what was then called Park Mall.  
Some Tucsonans have defended a downtown development district that takes in all of the TIF generated at El Con and Park Place as Tucson's way of achieving payback for the State revenue-sharing inequities that Pima County suffers relative to other areas of the state.  However satisfying this offset of a perceived injustice may be to Tucsonans, the reality is that the gerrymandered TIF district—drawn in the shape of a very long rifle—has been a hindrance to development, regardless of how much money it kicked back to Tucson.  
It has been a hindrance because it has skewed the City's incentive structure for how to plan and finance revitalization.  The boundaries as they were drawn gave the City access to huge sums of state sales taxes from The Home Depot, Circuit City, Mervyns, Dillard's, Macy's, two Targets and many other stores and restaurants, but this largesse motivated the City to use TIF as a big piggy bank that replenished every month, rather than as an economic development tool that depended on their wise use of the opportunity to generate retail growth in Downtown.   With so much money coming in from existing and new sources along Broadway, and a large wish list that included an aquarium, several new museums, a re-creation of the Mission San Agustin complex, a restored Fox Theatre, and several other projects, the City chose to view all that free money from the east end of Broadway as a piggy bank.  It was as if any TIF generated in Downtown itself was a bonus.  When you don't have to work for something, you don't value it.  The TIF money was free, so Tucson didn't make a commitment to generating more of TIF in the area that should have been producing it.  
The fact that Downtown business was moribund in 1999 was actually a great thing from the tax-increment standpoint.  The state sales taxes from any new development, any net new business activity, would have been 100% incremental compared to the base year of 1999.  If Hotel Congress increases its sales by 10% over 1999, the corresponding 10% increase in state sales tax is the tax-increment for that property.  But if the empty lot down the street (and some or all of the other 30 empty lots) gets filled in with new businesses (with offices, apartments or condos on top, of course), then whatever sales taxes are generated there are 100% "increment".  So the fact that downtown is/was dead is an advantage with the TIF scheme;  it creates an opportunity to enjoy a huge windfall if you actually invest in projects that generate new sales tax in Downtown.  
When the City issued its 1999 RFP for Rio Nuevo, a California developer responded to it with a proposal to build lots of retail on the west side of I-10, on the south side of Congress.  It was this developer, NOT the City, that proposed using TIF to fund the construction of attractions and infrastructure.  The developer envisioned a master-planned area with the Sonoran Sea Aquarium, Museum of the American West, and the Universe of Discovery (I'm not making these up; these were the names of the museums that were proposed in 1999), and a Regional Visitor Center serving as the anchors of a mixed-use development that would include 500,000 square feet of outlet stores.  The new sales taxes from this retail center would have all come back to Tucson, as the 1999 sales tax base on the land where it would have been built was Zero.  
That particular developer didn't have its act together, and probably couldn't have pulled the project off, but the City could certainly have found one that did, let's say Forest City or General Growth.  If the City had chosen to stand up to Menlo Park neighborhood, which didn't want a lot of retail on that corner, OR, if the City had said, "okay, we're not going to put the retail there where the neighborhood doesn't want it, but we'll put it on the east side of the freeway", we could have created a TIF district that didn't need to extend its boundaries beyond Downtown.  A TIF district that was limited geographically to Downtown would have allowed the City to invest in the infrastructure to support that retail center with a repayment plan based on the new sales taxes generated there and that would not have been generated otherwise.  Whatever sales taxes that retail center would have generated would have come back to Tucson, 100% OF IT.  
Instead, the City Manager's office, led by city manager Luis Gutierrez and assistant city manager John Nachbar (who left Tucson shortly thereafter for Kansas) put together the rifle-shaped TIF district with no public input in the summer of 1999.  Nachbar knew that El Con and Park Mall were planning redevelopment and growth.  It seemed like a clever way to get funding to build the museums while not forcing retail development on an unwilling neighborhood.  Tucson had just a few months to get voter approval for a TIF district before the enabling legislation terminated. The City Council approved the plan 5-2, and then the voters of Tucson and South Tucson (the state law required a partner city to vote for the project, and Tucson promised South Tucson $1 million for its trouble) approved Proposition 400 in November 1999 with over 60% of the vote.
The City then spent $600,000 on a master plan that was subsequently revised at great cost; it created a governing board, a citizens advisory committee, and began essential environmental remediation work on the west side of the Santa Cruz.  The TIF revenue stream did not begin until 2003, when the City decided the time was right to maximize the flow of sales taxes being generated in the district.  Park Place's renovation was nearly complete and El Con had opened a Home Depot store.  
In order to fund the planning, consultant fees, land acquisition, staff costs, and other expenses prior to the time when the TIF funds started coming in, Rio Nuevo borrowed over $14 million from the City of Tucson.  Unfortunately it did not pay any of this back, and now a significant part of the recent bond issue proceeds will be used to repay this loan to the City, which is reeling from huge shortfalls in projected sales tax revenue.  In order to initiate the district, state law required an investment in the "primary component", which was the Tucson Convention Center.  Consequently, the first completed Rio Nuevo project was the new box office at the TCC, which cost about $700,000.
A TIF district is supposed to be revenue-neutral; in other words, the governmental entity that is losing the taxes should not miss them because it never would have received them anyway but for the project.  Funds are supposed to be invested in "but for" projects; those that would never have been built "but for" the investment.  The incremental sales taxes should come only from areas benefited by the public investments.  
But Tucson grabbed sales tax increment that was generated outside of Downtown, and that would have absolutely gone to and stayed with the State of Arizona.  The malls on Broadway were redeveloping regardless of what Tucson did with its downtown.  The motivation for that redevelopment was totally unrelated to the destination of the sales taxes that would be generated there, and it certainly had nothing to do with Downtown.  As such, the sales tax increment generated east of the Snake Bridge was 100% diversion of State money.  It was an increment, yes, and therefore it was diverted back to Tucson for Rio Nuevo, but it was an increment that was the fruit of other investments made by private developers, and it should have stayed with the State of Arizona.  Tucson did not invest TIF dollars earned at El Con back into infrastructure improvements at El Con Mall (and I'm not arguing that it should have);  it spent them on studies, consultants, and plans for projects Downtown.  (Some have seen this as a delicious irony as well, that the mall that signaled the demise of downtown's department stores and retail base in the 1960s is now being used as an engine to restore Downtown.)
One can argue that that is a good thing because it helps balance out other revenue-sharing inequities that leave Tucson on the short end relative to Phoenix, but it cannot be argued with a straight face that it is a proper way to set up a TIF.  
If Tucson had drawn a TIF district that was self-contained in Downtown, there would have been no diversion of extraneous State sales tax-increment that it wasn't really entitled to.  The City of Tucson has looked at the fairly predictable revenue stream coming down Broadway as a source of income that it is entitled to spend Downtown.   With a real TIF, you wouldn't have a budget of anticipated revenue unless you sold bonds to leverage development that created the sales taxes.  In other words, you wouldn't say, "we'll have $600 million coming in over the next 20 years;  how can we spend it?"  
You would say, "what opportunities for development are out there that the City can invest infrastructure dollars to support?  What fair and understandable process can we create that lets developers and retailers know what the rules are for applying for a share of this public investment?"  Then, be ready for, or actively recruit, developers who see market potential to build projects that generate enough sales tax increment to cover the public investment.  And since there is no initial money coming in, you have to bond to get the money to build the infrastructure to make these projects work.  
Let's say a developer wants to build 200,000 square feet of retail.  (I picked that number because one of the City's many studies—the 1995 City Center Strategic Vision Plan—stated that Downtown should be able to absorb 200,000 square feet of retail, and the City should try to achieve that.)   The City evaluates the feasibility and risk of partnering on this deal, and if it decides to go forward, it might agree to pay for something like the construction of a public parking garage underground or above the street-level retail.  Without it, the project doesn't happen because other costs of doing development in Downtown give the developers incentive to continue building strip centers in the suburbs or on raw desert.  With it, you generate jobs, sales taxes, vitality, and momentum for continued growth and investment.
200,000 square feet of retail kicks off a LOT of sales tax, and if Tucson had built such a center on an empty Downtown lot when the economy was growing, every penny of the new sales tax would have been increment that would have paid a large and ever-growing increment, year after year until the district expired.  All of these sales taxes would have been rebated to Tucson, and used to repay the bonds that would have been sold to finance that parking garage.  There would have been money left over to create a fund that you could use to stimulate new development.  Or build a "world-class" museum.  
More realistic than the notion that something so large as a 200,000 sq.ft. retail center would have been built in Downtown Tucson in, say, 2003, would be smaller mixed-use projects with 10,000 or 20,000 sq.ft. of retail, restaurant, or entertainment space.  Incremental and sustainable development, creating 100% incremental sales tax growth.  As an example, if Bourn Partners' The Post had been built as planned, it would have created 10,000 square feet of new retail space. If you built several such projects with housing components and created some momentum, Downtown might be able to absorb a bigger retail project, especially one associated with an entertainment destination, hotel, and a thriving convention center.  A new hotel would generate an enormous TIF because of its high sales and the fact that the sales taxes would be 100% incremental over 1999.
The sooner such developments could be completed, the sooner they would start paying the City back for its investment of TIF, and the more TIF could be earned over the course of a finite period.  
Rather than giving public land away for free, which guarantees that there will not be comparable land values for banks and lenders to use to finance future projects, you would value the land appropriately and sell it at market value.  Then, if you want to offer incentives to stimulate development, you do that another way.  But you don't give away land.  
By simply budgeting the expenditure of free money that was generated at Park Place and rebated to Tucson courtesy of the taxpayers of the entire State of Arizona, there was no incentive on the City's part to actually use the power of TIF to create new commercial development and new sales taxes in downtown.  Since the money was going to flow in regardless, there wasn't even any urgency about using it for the museums and other non-sales-tax generating projects.
The structure that the City created for the TIF district virtually GUARANTEED that little private investment or significant revitalization happened, or would do so in a timely manner.  Actually there was no structure.  There was no "program".  Rio Nuevo officials wondered, in the early years why no developers showed up.  That was because there was no economic development program to respond to.  The City's plan was simply to build attractions that would draw visitors to Downtown, and to hope that developers would invest in housing or other development in Downtown in response to the increase in visitation to the area.  Build a museum on the west side of the river, and hope that it would inspire a developer to build condos on Congress Street.  That was basically the plan.
These foundational mistakes only doomed Rio Nuevo to failure because the City never fixed them—there was nothing stopping the City from changing its initial approach.  In fact, had the City used the TIF generated at the malls as seed money for jump-starting its downtown TIF-generating plan, it would have been even more powerful.  Combining the free money from the east end of Broadway with new TIF generated in Downtown would have been a tremendous advantage for Tucson.  But the City chose to simply take the free money and spend it on projects that don't generate sales tax in Downtown.
The Depot Plaza project is being developed in a manner that is close to the model that should have been used from the beginning.  TIF is being used to build an underground parking garage, below two planned residential buildings with retail space along 5th Avenue and Congress Street.  The problem is that there is no program that would inform another developer that such a model might be used on another Downtown project.  The Rio Nuevo website gives no indication as to how a developer or investor might respond to the Rio Nuevo Economic Development Program, if there were such a thing.
Rio Nuevo has collected over $58.3 million in TIF between July 2003 and November 2008 (the last month for which Rio Nuevo has published its TIF revenue on its website), and it has spent much more than that.  
But soon it won't have any money to spend, other than what it generated in its December bond sale—the repayment of which is in question because of the state legislature's interest in stopping the TIF payments.  A February 15 article in the Arizona Daily Star claims that the bonds were backed by the General Fund, which if true, will certainly lead to more controversy.  Not only is the hard-fought TIF extension (2013 to 2025) likely to be wiped out, but so will the last four years of the original ten-year Rio Nuevo District, triggered in 2003 and projected to generate over $120 million.  
What A Pity!
Tucson is debating a new convention center and high rise hotel. Who's paying for the $150m hotel, well that's a great question.
 Our current facility is old and apparently outdated. It's too small for big events and there's not enough small meeting facilities for big events or something like that.  
A study was commissioned in 2005 which showed a positive economic impact of a new arena – read the AZ Star article HERE. 
And the beat goes on…..new arena + new high rise hotel + government funding = huge economic impact – or will it? Is the facility needed? Is it big enough to fill a market niche? Can we ever host a NCAA Final 4?
Up north in Phoenix the new $600 million convention center just opened – HERE.
By tripling the convention space, the center opens Phoenix up to large conventions and events, which can bring tens of thousands of business tourists into the city at once.

Nearly 70 groups are expected in Phoenix for 2009, said Alexandria Van Haren-Pierce, spokeswoman for the center.

The NBA All-Star Game plans to use the convention center for several events in February including the basketball theme park NBA All-Star Jam Session.

Members of the National Rifle Association are expected to bring up to 60,000 attendees to Phoenix in May.

Phoenix began making over the Civic Plaza with the 155,400-square-foot West Building.

The $600 million price tag was split between city bonds and state funding. The tab doesn't include $18 million in upgrades to the South Building, which Phoenix bankrolled.

The 1985 facility was renovated so that the interior matches the newer North and West buildings.
(More about the Tucson Convetion Center HERE).
Here's another look at the convention center business from Antiplanner.com
Operating in the Black, Government-Style
posted in Regional planning |
The director of Metro, Portland's regional dictator planning agency, offers some insight into how government planners view such concepts as profits, losses, and sales. It is not a lot different from the way soviet managers looked at the same ideas.
Phil Stanford, a columnist for the Portland Tribune, recently commented that Metro's Oregon Convention Center "has been losing money by the bucketload." Two years ago, this convention center was the centerpiece of a Forbes magazine article about how cities are losing millions overbuilding their convention centers.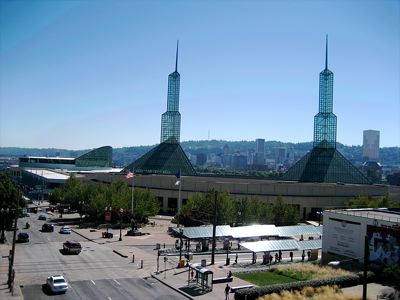 The pretentiously named Oregon Convention Center.
Flickr photo by Premshree Pillai. 
Back in 1998, the convention center was losing money and Metro, which owned and operated it, was convinced that the solution was to lose more money by doubling its size. Portland-area voters were asked for the money to do this and they said no. So Metro did it anyway, spending $116 million on the addition.
By 2005, reported Forbes, the center was losing $5.5 million a year. But Metro was undaunted by Forbes' criticism, and proposed to build a new hotel next to it, saying that the city's downtown hotels were too far away. (So what geniuses decided to build the convention center too far from hotels? Oh yes, it was urban planners.)
Anyway, Stanford is not enamored with the hotel proposal. But Metro's executive, David Woolson, took offense at Stanford's column and wrote a letter claiming there were some "inaccuracies" in Stanford's article.
In particular, Woolson wrote Stanford, "you state the Oregon Convention Center 'has been losing money by the bucketload.' That's not accurate. Actually, the OCC has operated in the black the last four years with its operating revenue and its share of the transient lodging tax." (Notice that the "last four years" includes the year in which Forbes says the convention center lost $5.5 million.)
In other words, Metro doesn't have to actually rent the convention center to fee-paying users. It is enough that someone increased the local hotel tax (at 11.5 percent, Portland's is the highest in the state) and dedicated it to the convention center.
Now, I hope that even the planners who read this blog can spot the flaw in Woolson's reasoning. If you have to count taxes to consider yourself "in the black," you aren't really in the black — even if those taxes are dedicated to your boondoggle convention center.
I suppose, for the benefit of some, I have to clarify the difference between taxes and user fees again. If a user pays a fee or tax and the money goes to whatever it is that the user is paying for, then it is a user fee no matter what you call it. But when a fee that is dedicated to a convention center is paid by motel or hotel users who aren't going to the convention center, that is a tax.
Back in 1990, The Economist sent a reporter to the then-disintegrating Soviet Union to interview factory managers. The factories were going to have a hard time adjusting to markets, the reporter concluded, because their managers didn't understand such basic concepts as "sales," "profits," or "costs." ("Life in a Soviet Factory," December 22, fee required.)
I've encoutered the same puzzlement from Forest Service officials when talking about the profitability of national forest timber sales. In the 1950s, the Forest Service was proud of being the only federal agency that actually made a profit, but by the 1980s, when it was losing $400 million a year from its timber program alone, its attitude was, "We're the government. We don't have to make money."
When I would ask forest officials to calculate their profits, they would count tax dollars appropriated to them by Congress as revenues and timber sale receipts that they returned to the Treasury as costs (because they didn't get to spend it on things they wanted to do). No wonder they lost money!
Anyone who thinks government is good needs to spend some time reading agency budgets. They may seem dry and boring, but that is deliberate: they don't really want you to know where your money is going, so they overwhelm you with material. Just skip all the text and read the numbers. If you can't read numbers, call up whatever school district ran your high school (another government agency) and ask for your money back (that is, the taxes your parents paid for you to go to school there) because they failed to teach you to understand and analyze numbers.
Mr. Woolson might be foolish enough to believe that taxes are "revenues" that can be counted when determining whether an operation is running in the black. It is too bad Metro was foolish enough to hire him and too bad that Portland-area taxpayers are saddled with an agency like Metro.
The Ripple Effect
Soon, a consultant will be hired to do an expansion feasibility study. "I wouldn't go forward with a study if I didn't think there was a possibility that the demand was there," says Neilson. "And I think we owe it to everybody to find out."
— DK
The 30,000-foot view of the convention industry shows a business in the midst of recovery as demand for exhibit space grows, convention center occupancy rates climbs, and meeting attendance rises.
But a closer look reveals some underlying shifts that are altering the landscape. One such shift is that convention and trade show business is starting to flow back into smaller markets, but at the same time, the market has become bifurcated between the winners and losers.
As Robert Canton, director, sports, convention, and tourism services at PricewaterhouseCoopers, explains: "The gap between the haves and the have-nots is growing. When you look at the percent increase we're seeing in the industry, a lot of it is taking place in about 60 percent of the buildings." The other 40 percent are struggling to fill their centers in a very competitive market flush with supply.
A majority of the "haves" are the first-tier cities like Las Vegas, Orlando, and San Diego, which were gobbling up all the groups they could to fill their buildings through the recession. Now, as demand returns and the big centers start to fill up, business is beginning to move downmarket into some second- and even third-tier venues.
Call it the ripple effect.
Hotel Pricing a Big Factor
The hotel seller's market is having an impact on the convention business in several ways, explains Michael Hughes, associate publisher and director of research services at Tradeshow Week Custom Research, Scottsdale, Ariz. "The hotel package and capacity and pricing is the main site selection driver these days," says Hughes. "And one of the main decision drivers for [association meeting] attendees relates to hotel quality and, most importantly, pricing." So, assuming the center has the capacity to handle a specific group, decisions are being made based on the availability, quality, range, and affordability of hotel rooms.
Some second-tier cities, like Portland, Ore., have been able to take advantage of the shift. "Our (hotel) rate recovery is not as strong as other destinations, so we're still a bargain," says Matt Pizzuti, director of sales and marketing at the Oregon Convention Center. Affordability is one reason — along with being an environmentally friendly facility — why the center saw an increase in number of conventions and trade shows, attendance, and revenues last year, says Pizzuti. Occupancy is close to 60 percent at the center this year.
The Attendance Factor
Despite the haves and have-nots, the recovery is occurring, says Canton. Steven Hacker, president of the International Association of Exhibition Management, takes it a step further. He says the industry has almost completely recovered from the post-9/11 bust based on the Center for Exhibition Industry Research's CEIR Index. The CEIR Index — which measures annual changes in net square footage of occupied exhibit space, attendance, exhibitors, and revenues based on data from over 200 events in 11 different sectors — says that all four metrics surpassed 2000 levels in 2005. "All but one or two industry sectors have not only made up the ground that they lost, but they have made gains," says Hacker. (The index for 2006 won't come out until next April; CEIR is an arm of IAEM). But not everyone is convinced.
Heywood Sanders, professor in the Department of Public Administration at the University of Texas at San Antonio, who caused quite a stir with his 2005 Brookings Institution study that depicted an industry in decline, says the key indicators — attendance and occupancy rates — are not back to 2000 levels. He says his research shows that while both indicators have fluctuated over the last few years, they have essentially been flat.
A Cyclical Economy
One thing that's telling about the current environment, says Canton, is how closely the demand for space and attendance at conventions and trade shows tracks to the health of the U.S economy.
IAEM's Hacker concurs. "It appears as though for the first time, the hospitality industry — and especially the exhibition industry — is not immune to economic cycles. In the 50-year time period preceding 2001, despite six serious recessions in the U.S. economy, the industry continued to grow without pause," says Hacker. That changed in 2001. He adds, "It's become much more important that destinations do their homework to make sure the demand is there before building or expanding."
If You Expand It, Will They Come?
Since the Indiana Convention Center was expanded in 2001 from 301,500 to 403,700 square feet of exhibit space, the city has seen the number of room nights booked in the city increase from 450,363 in 2000 to a projected 526,755 in 2006. The center hosted about 30 conventions per year before the expansion and now it attracts around 40 per year, explains Bob Bedell, president and CEO of the Indianapolis Convention and Visitors Association. The current occupancy rate (70 percent) is equal to what it was before the first expansion. Now, city officials are planning to expand the center again (to 733,700 square feet) and Bedell hopes for a similar pattern. "We expect to increase the number of major conventions and trade shows we host every year by 18 to 23 with this expansion," he says. The expansion will be complete in fall 2010.
But the "build it and they will come" strategy may not work if the city doesn't have the destination appeal to support that additional growth, something Milwaukee officials are contemplating as they consider expanding the 189,000-square-foot Midwest Airlines Center. Unlike in Indianapolis, convention business has been sluggish in Milwaukee since the center opened in 1998. In 2005, the center generated 149,000 hotel room nights, down from 180,000 in 2000. While Milwaukee has lost business because the center doesn't have the space to compete for larger events, the expansion alone won't bring the business, says Doug Neilson, president and CEO at Visit Milwaukee, the city's convention and visitors bureau. The city must have the overall package to compete, he adds, and with new hotels, restaurants, and activities, including the Harley-Davidson Museum, in the pipeline, the city is intent on boosting its destination appeal.
The Brookings Institute study from 2005;
The data on the supply of exhibition space are clearer than the data on exhibition space utilization because it is much more easily tracked. On this point Sanders is more guilty of mischaracterizing the data rather than using it selectively. He claims that the last few years "have seen a remarkable boom in the volume of exhibit space in convention centers," calling it a "building frenzy."

By expressing the ratio of demand to supply, one can calculate a utilization factor for convention centers. This is similar to occupancy rates that are used to measure performance in the hotel industry. The utilization factor reflects the percent of gross exhibit space that is used each year by the events that are tracked by Tradeshow Week.

Utilization Index
.


Good Money after Bad?

A number of cities have chosen to improve their convention environment by investing in the development of headquarters hotels. Sander says, "Many cities wind up, as they say 'throwing good money after bad'." This assertion implies that the original investment in a convention center is a bad one (a claim that most cities that have made the investment would dispute) and that hotel investment is just adding more of the same type of public costs. But the rationale for, and expected financial outcomes of, convention center and hotel investments, are quite different.

The most commonly used rationale for investment in convention centers is to generate economic impacts from out of town visitation. Nearly all convention centers in the U.S. are built without any expectation that project income will repay capital costs and most are not even expected to cover operating expenses. This has long been a fact of life in convention center development, although Sanders implies that convention center financial losses are a new and growing problem. In contrast, the rationale for public investment in hotels is to maintain competitiveness (not necessarily to generate new economic impact) and they are usually expected to pay for their capital costs from project income. In fact, all publicly financed hotels are expected to provide a significant return on investment to the sponsoring municipality in the form of residual cash flows and potential sale of the asset.

Since 1996, sixteen communities have successfully financed hotels using tax-exempt municipal debt. All of them planned to repay that debt with project income. The choice to use public rather than private financing is driven by the lower costs of tax-exempt funds which makes projects more feasible with less financial commitment on the part of the sponsoring municipality. Three of the early projects in Chicago, Sacramento, and Miami Beach have already fulfilled their promise to generate a financial return. Others more recently financed such as in Austin, Overland Park, and Cambridge are on their way to providing a financial return despite opening under stressful market circumstances.

As an established industry, continued growth in demand will come not from latent sources, as occurred during the last few decades. Rather, industry growth will depend on new demand, which is affected by numerous factors such as the cost of travel, the importance of face-to-face interaction in certain industries, improvements in facility design, resources available to promote events, trend in how firms allocate their marketing budgets, and overall growth trends in the national economy.

In most industries that go through periods of overbuilding (e.g. hotels, residential, shopping malls, and office space), the ability to generate private return on investment eventually limits the expansion of supply. Since most convention facilities are publicly financed, this market discipline is not necessarily present. Instead limited resources of governments and the public decision making processes that consider the merits of capital investment place limits on supply growth. In our experience, most municipalities are not "willing to try almost any investment in their quest for more convention visitors." Concern over the proper allocation of limited resources and historical experiences of success and failure play very important roles in the decision making process. Which brings us to a point of agreement with Sanders' overall conclusions: careful and realistic consideration of the chances of success should inform the public decision making process about investment in convention centers.
The Convention Center Shell Game from City-Journal.com – HERE.
| | |
| --- | --- |
| The Convention Center Shell Game | |

 

Although Boston's gleaming new $800 million convention center is set to open in a few months, so far it has booked only a handful of conventions. So dire is the facility's outlook that it will need a $12–15 million annual public subsidy in its first few years of operation and may not reach its full booking potential for a decade, say Boston officials. Even that may be too optimistic, judging by what's going on in Baltimore. There, a vastly expanded convention center that reopened in 1997 is finding it so hard to lure business that city officials are now searching for ways to make the facility more attractive, including spending millions in public money to build a subsidized hotel next door.

What is happening in Boston and Baltimore is not an anomaly but merely the latest chapter in what is turning out to be one of America's biggest civic boondoggles.For more than a decade now, cities and counties have been rushing, at enormous public cost, to build new convention centers or add space to old ones, including a $191 million expansion of San Francisco's Moscone Center, a $291 million new facility in Omaha, and a $354 million center in Pittsburgh. The increase in space has vastly outpaced the growth of the convention industry and often failed to generate the kind of economic activity predicted by boosters. Rather than energizing local economies, in fact, some convention centers are emerging as a drag on civic finances, requiring taxpayer operating subsidies on top of their huge, publicly financed construction costs. What's more, the situation is only likely to get worse. Another eight to ten million square feet of exhibition space is scheduled to come on line within five years, an increase of about 15 percent in an industry where demand is barely growing.

Although those numbers should be sobering to any city contemplating building yet more space, in New York officials are plunging ahead with plans for the most costly convention project to date—proposing to spend a staggering $1.5 billion nearly to double the size of the Jacob Javits Convention Center. The proposal comes despite the chronic fiscal problems of both the state and the city and the absolute lack of any credible evidence that the expanded center would pay back such a colossal public investment.

Indeed, to finance the expansion, the state and the city, both already heavily indebted, will likely have to float huge debt offerings and may even increase some taxes.

New York's headlong plunge into this new project is evidence that local officials rarely let the facts get in the way of their love of big projects. Back in the early 1980s, when the state and city built the Javits Center, there were far fewer convention centers and little actual data on whether the business that these facilities generated helped a city's economy enough to justify the investment. New York officials saw Chicago's giant McCormick Place bringing visitors into the city to fuel the local hotel, restaurant, and entertainment industries, and figured Gotham could compete for that business.

But today, after a generation of frenetic building and with much better data available, the inescapable conclusion is that few of these new projects are worth doing. Boston, for instance, spent nearly $230 million to renovate its existing convention center in the 1980s, and the result was barely a blip upward in its hotel occupancy, says political scientist Heywood Sanders of the University of Texas at San Antonio, the foremost expert on publicly built convention centers. Yet Boston officials brushed that experience aside and went ahead and built its brand-new—and already troubled—center anyway. Similarly, a vast expansion of Chicago's McCormick Place, costing $1 billion in the mid-1990s, didn't prevent a drop in that city's share of major conventions. Meanwhile, Atlanta's huge expansion of its convention space has done little for the city's struggling downtown: a major retail project there, Atlanta Underground, has struggled to survive even as the city's convention business has grown. "The payoff is not there," says Sanders.

But local politicians have typically argued that their projects will work better than those in other cities—on scant evidence for such conclusions. New York officials, for instance, justify expanding Javits on the grounds that the city is already a major trade-show destination and therefore won't suffer like other cities from significant new competition. Yet Chicago was an even bigger force in the business when it expanded McCormick, but still saw its market share decline. And even if a bigger Javits were to attract some new business, it is highly unlikely to generate enough spin-off activity to justify its enormous public cost (including the eventual cost overruns likely with such a gigantic public project).

Gotham officials are relying on the optimistic predictions of government-sponsored economic studies that an expanded center would create thousands of temporary construction jobs and up to 16,000 permanent new jobs, mostly in the hospitality industry. But political scientist Sanders argues that such studies tend to be unrealistically optimistic. For instance, says Sanders, one study used to justify expanding Javits does not take into account that the center doesn't generate nearly as much hotel business as other centers, because many convention attendees already come from the New York area, and because New York's high hotel rates discourage some conventions from using the city. Another word of warning: city-commissioned studies almost always wind up recommending convention centers—meaning that the industry of consultants who churn out such studies has a pretty lousy track record, considering the long list of underperforming centers around the country.

But politicians ignore such inconvenient facts. For them, building big projects is often far more engrossing than building a strong economy, because giant construction projects directed by government agencies offer opportunities to reward friends and potential supporters with plum contracts.Thus the original construction of the Javits Center was perhaps the quintessential New York boondoggle, an effort rife with mob influence, bid rigging, and cost overruns that brought the ultimate bill to $486 million, 30 percent more than projected. And the center has never fulfilled all the promises. When it opened, a New York Times headline proclaimed the widely held belief that the new center "kindles dreams for West Side," but in 18 years, the center has had almost no impact on its neighborhood.

New projects also enjoy the support of private-sector interests likely to benefit from them. In New York City, a perfect storm of private interests is raging to push forward the Javits expansion, including the construction industry that would build it, the Wall Street bankers who would underwrite the financing, and a hospitality industry hungry to benefit from even a marginal increase in its business no matter what the public cost. The hotel industry has even signed on to a possible hotel tax increase to pay for the Javits expansion, when a decade ago the same hoteliers vociferously protested a rise in the tax, producing studies showing that the increase hurt the local economy. Small wonder that politicians often doubt the claims of executives that taxes kill jobs when an industry reverses itself as cavalierly as the city's hotels are now doing. In fact, of course, the innkeepers were right the first time: after New York cut its hotel tax by six percentage points, hotel occupancy rates jumped to 84 percent from under 76 percent in just three years.

The Javits expansion, as expensive as it is, only partially encompasses New York's grand design for the Far West Side of Manhattan. Hoping to lure the 2012 Olympics to Gotham, the Bloomberg administration also wants to build a domed sports stadium adjacent to the convention center, which boosters argue could provide hundreds of thousands of square feet of extra convention space when needed.

With a $600 million taxpayer contribution, the stadium would be an even worse investment than the convention facility. Numerous studies have already documented that publicly financed sports facilities don't return anywhere near their investment. One study by economists from Stanford University and Smith College, for instance, estimated that Baltimore was receiving only $3 million a year in additional tax revenues or new job benefits from its $200 million investment in the Camden Yards sports complex. Even projects generally touted as successful often don't turn out to be, under careful economic scrutiny. A mid-1990s study by urban economist Mark Rosentraub of Cleveland's arena and baseball stadium, often held up as a model of how to build downtown sports facilities, found the projects created only 2,000 jobs at an average public investment of $160,000 for each job—an improvident use of public money.

The real role of government in stimulating development should be more limited than what New York is attempting with its Javits expansion and its stadium. Government's role on the Far West Side should be only to develop the infrastructure necessary to encourage private development: to extend public transportation into the area and to change zoning codes to allow privately financed office and residential construction there as the need develops. To do any more would place far too much taxpayer money at risk and would put government officials in the role of trying to predict what the market wants—a task government is ill-suited to carry out. But New York State is contemplating the exact opposite—balking at extending the Number 7 subway and, presuming to know better than the market, threatening to use eminent domain to take the land for the Javits expansion away from developer Larry Silverstein, who has other plans in mind for it. The state's vast, monolithic scheme could well repel rather than attract high-value commercial development.

Meanwhile, the hospitality industry has learned that it can sit and wait for local government to finance its dreams these days. The Javits expansion, for instance, was originally tagged at a "mere" $1 billion but grew costlier when the center's board stuck in a publicly subsidized hotel as part of the building frenzy. The hotel supposedly needs to be built with public money, because so far no private hotel company has been willing to pay to put up a property on the Far West Side.

The Javits hotel scheme is not unique by any means. Publicly financed hotels have now become the latest craze in the municipal convention-center wars. Cities like Dallas, Baltimore, and Knoxville are all contemplating building them, on the theory that these properties will help boost sagging convention-center business. Though hotel companies won't finance these properties themselves, because they know they are unlikely to repay their investment, they are more than willing to move in and operate them after government has built them. The result is a version of the rat and cat farm: we use tax money to build a convention center that supposedly will stimulate the hotel industry, and then use tax dollars to build a hotel that supposedly will stimulate the convention industry.

The nationwide convention-center fiasco is striking testimony that much government-centered economic development these days is a "me-too" affair that involves spending public money on what others are doing, regardless of market dynamics—perhaps because politicians who benefit from these projects can avoid blame by claiming that they were only doing what other cities were doing. New York State seems especially infected with this disease right now. With its huge public complexes in Albany and its vast string of publicly constructed state universities, the state has always specialized in state capitalism, and it is not to be outdone in the area of convention centers. In his state of the state address, Governor Pataki advocated not only the Javits project but a new $185 million convention center in Albany to replace its existing facility and the modernizing of another facility in Lake Placid. Soon after, officials in Erie County renewed their lobbying for a publicly financed center in Buffalo, while in Syracuse, a group that has put forward a far-reaching plan to remake that city added a convention-center proposal to its agenda, too. These proposals would join an estimated 40 or so convention projects already under way in cities throughout convention-center-glutted America.

While politicians and private businesses push such efforts, resistance from taxpayer groups is growing. The Texas chapter of Citizens for a Sound Economy, the national taxpayer group headed by former House Majority leader Dick Armey, is opposing a publicly financed convention hotel in Dallas. Knoxville citizens will soon get to vote on whether to spend tax dollars on a new convention hotel, after opponents of the effort collected thousands of signatures to get the issue on a ballot. In Raleigh, North Carolina, government supporters of a new convention center are trying to avoid a vote on public financing for the project—which they are sure to lose—by proposing alternate but even more costly financing that doesn't require a referendum.

The mounting opposition shows that the public understands what a fiasco the convention-center business has turned into all around America. If only urban leaders could figure that out, too.
 The Tucson Citizen weighs in with 'Construction Starting in 2008′ – HERE. 
Pages
Blogroll
Misc Links
Categories
Archives
June 2016
M
T
W
T
F
S
S
« Sep
1
2
3
4
5
6
7
8
9
10
11
12
13
14
15
16
17
18
19
20
21
22
23
24
25
26
27
28
29
30
Loading ...
Tags