Archive for March, 2010
Saying goodbye to Hi Corbett Field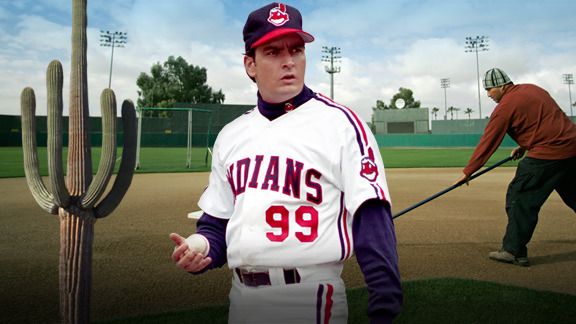 TUCSON, Ariz. — The Rockies will play the final Cactus League games at Hi Corbett Field this week and then move to Scottsdale next year. And when they do, spring training will become just a little more corporate.
Hi Corbett has been home to spring training since 1947, but few players are shedding tears about saying adios. "It's old, very old," Colorado first baseman Todd Helton said, trying his very best to come up with a non-derogatory description. "Yeah, a good way to describe it is very old."
Yes, it is, and that's what I like about the place. Hi Corbett feels more like the way spring training once was, when a team's objective was to get overweight players back in shape after a winter peddling insurance rather than to sell $30 "premium date" tickets, $8.50 beers and $40 souvenir shirts to wealthy fans vacationing from Chicago. Don't get me wrong — spring training still is a wonderful time, and every fan should enjoy its many pleasures at least once (every date is a "premium date" when you're layering on sunscreen while watching a Cactus or Grapefruit League game instead of shoveling snow). But as teams gouge taxpayers to build ever more lavish new "complexes," spring training not only becomes a little more big league; it becomes a little less personable and a little less accessible.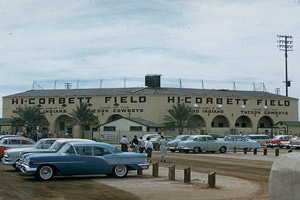 Tim Sheridan While Hi Corbett may not have the amenities of a modern complex, it oozes the essence of baseball.
Hi Corbett, however, is as old-school as a flannel uniform. Set amid Tucson's Gene C. Reid Park, the stadium is surrounded by a golf course (the Braves really should have trained here), a zoo (the only one in baseball outside of the bleachers at Yankee Stadium and Fenway Park), picnic areas, walking paths, ponds and very public spaces. On a recent Sunday, you could see the Rockies warming up on one field, a dozen or so people performing Tai Chi beneath a small grove of trees a few yards away and a father and son playing catch just behind them.
It was so wonderfully pastoral that Georges Seurat should have painted the scene — "Sunday in the Park with Jorge De La Rosa."
"You don't feel like it's a moneymaking venture here," said former pitcher Roy Smith, who trained at Hi Corbett in the 1980s with Cleveland. "The guys are getting ready. You're close [to players]. It's more like a park over there instead of a complex. The fans can get close. That's why I always liked it. It was like that at Vero Beach [Fla.]. It has some of the aspects of the Vero Beach when the Dodgers were there."
Unlike at other facilities where the fans are fenced off from the players, the home clubhouse at Hi Corbett leads directly into a public area, requiring players to either come in contact with fans or never leave the stadium. And many of them are very willing to sign autographs. Not just a couple signatures, but autograph after autograph.
"The fans are right on top of you," Helton said in an approving tone. "They have more access to you coming in and out. That's good on some days, bad on others."
Hi Corbett is not only figuratively a step backward in time, it is also literally backward, with home plate and the batter facing west into the sun. The strange geography is especially noticeable given that there is virtually no shade in the stadium — a meager roof covers only a very small section of the seats behind home — which means that the stadium's unofficial slogan is "Always wear sunscreen." With, one longtime fan added, the additional clause that you should also bring cold beer.
You've probably seen Hi Corbett even if you've never been to Tucson because they filmed the spring training scenes for "Major League" here. This gives Hi Corbett the distinction of having both Bob Feller and Charlie Sheen pitch from its mounds.
"That's definitely a unique experience. I never thought of it that way but I had a chance to meet Bob Feller and he's really a neat individual," Rockies starter Aaron Cook said. "I've never had the chance to meet Charlie Sheen, but the chance to pitch on the same mound as a Hall of Famer and a great actor like Charlie Sheen is something that not too many people can say they've done."
Granted, "Major League" made Hi Corbett look pretty rustic, but Charlie Sheen, Tom Berenger and Wesley Snipes still had it better than when Feller and the Indians moved here in 1947. "It did not have a dirt floor, but we had scorpions in the clubhouse," Feller said. "They were in the toes of your shoes. It was very close and very cozy. Not a lot of room but it wasn't that bad. I actually saw worse clubhouses in the major league."
Wait a second. Scorpions? "There were scorpions that would go and hide in the dark part of your shoe," Feller said. "And you had to be careful when you put on your shoes because there might be a scorpion in there and he would come out and sting you. Those little scorpions could nail you pretty good."
Feller was still a Hi Corbett presence long after he retired. Ex-players and writers vividly recall him standing in center field, practicing his pickoff move. He would stand there and look over his shoulder as if checking a runner at first base, then suddenly turn and fire the ball to the fence. He was doing that, mind you, when he was in his 70s.
All of this is what gives Hi Corbett its character. And it's what's missing from so many of the new spring facilities. They're all very nice and useful for teams, but they're also like the multipurpose, cookie-cutter stadiums built in the '60s and '70s. They all look alike. Peoria resembles Surprise, which resembles Goodyear, which resembles Jupiter. Stand in front of a Dippin' Dots stand or wait in line for an $8 cheeseburger and, like Milton Bradley, you may not be sure exactly which team you're with that day.
Colorado outfielder Jay Payton said he heard the Rockies' new facility in north Scottsdale (which they'll share with the Diamondbacks) will have a portable workout room that can be wheeled outside when the weather is nice. Great. Good to know the players can work on their bench press and their tans at the same time.
The Cubs, meanwhile, are threatening to move from Mesa unless the city agrees to more than $100 million in upgrades to their camp. The funding proposal would add another fee to rental car taxes that already are at 50 percent — my car cost $344 for nine days and the taxes were $175 — plus an 8 percent tax on every ticket to every game their rival teams play in Arizona (White Sox fans will be thrilled to pay money to the Cubs to see their team play in its own stadium). Few things upset me in sports anymore, but owners who blackmail communities into building them new stadiums (and then hypocritically bitch about government "socialism") still make me turn so red in the face I look like Chief Wahoo.
I mean, come on. The Cubs need a $100 million makeover in this economy? In a state that has been hit about as hard as any by the recession? For a spring training site? Really? Get real. There are 14 other teams in Arizona — including a Chicago team that has won the World Series in the past five years, let alone the past century — and fans will be only too happy to go see them instead if the Cubs move.
I say let the Cubs leave. Better yet, have them move to Hi Corbett, a beautiful ballpark that will be available next spring. It may not have a portable fitness room or a high-priced steakhouse, but it was plenty good enough to send a team to the World Series in its second year of spring training (Cleveland in 1948) and another one in its 60th (Colorado in 2007). The Cubs are too pigheaded and greedy to take advantage of this opportunity, but a couple Japanese teams are considering moving their camps to Tucson.
It's easy to see why. Hi Corbett has the sort of appeal that extends across oceans and beyond generations. Whether you're a 10-year-old Little Leaguer, a faux "Major Leaguer" or an aging Hall of Famer, the park provides such a spring training feel that you just have to pick up a baseball and see how hard you can throw it.
This week marks the end of spring training for 2010. Although both the Rockies and Diamondbacks have time left on their respective leases, it is clear that soon they will no longer call Tucson their spring home.
There are myriad reasons this day has arrived. Conjecture about who is to blame and what caused this eventuality abound. Suffice to say that there are clearly lessons about business retention to be learned.
Two years ago, Pima County reformulated a Sports and Tourism Authority, with the mission to retain and expand spring training baseball. Although a huge effort by this largely volunteer group ensued, time and circumstances simply prevented its ability to retain the existing teams.
Nonetheless, during the process, a series of exciting opportunities were uncovered.
At the suggestion of several authority board members and with the support of the Colorado Rockies, the prospect of bringing Japanese teams to Tucson was investigated. As part of the Chicago White Sox early lease cancellation negotiations, they put forth a proposal to convert part of the Kino Sports Complex into a youth tournament venue. In response to an Arizona Diamondbacks request for proposal, the potential for a new facility was investigated. From the outset, discussions with numerous other major-league teams have taken place.
Today, all of these prospects for Southern Arizona to continue to be part of professional baseball and major amateur sports are alive and well.
The obvious importance is the direct economic impact of travel induced by these activities. Numerous studies document the dollars and cents, but you need nothing more than a conversation with local hoteliers, restaurateurs, car-rental managers or other tourism-related professionals to get a clear picture of the importance of this business.
Further, these activities and affiliations brand our community and destination as having the ability to accommodate first-class activities. Make no mistake about that impact on economic development.
Rather than dwell on the negative this coming week, I invite the community to thank the departing teams for their contribution over the past years and for forcing us to look at future opportunities.
After that, we can embrace the potential of Japanese professional baseball teams competing against major- league teams – hopefully by next spring. We can also look forward to their developmental leagues bringing year-round business.
When the Sports and Tourism Authority referendum is approved by area voters, not only will opportunities for youth facilities be significantly enhanced, but based on our overtures to numerous teams we are convinced that the community will be in a position to entice new Major League Baseball teams to Tucson.
While it is sad to say goodbye to our current teams, this week by no means needs to be the end of spring training baseball in Tucson.
As we write the new chapter, hopefully we will learn from this experience, embrace the opportunities that have been presented and create a sustainable program for our community.
guest opinion
Tom Tracy is chairman of the Pima County Sports and Tourism Authority.
Tucson is about to make a decision of a lifetime. The failed development of Rio Nuevo is about to pledge it's future and the future of the communities general fund on a convention center hotel that makes little or no financial sense what so ever.  Rio Nuevo has spent $214m to date, has negative assets and has run out of bonding ability. A newly seated Rio Nuevo over site committee has been seated with a narrow focus of convention center and hotel feasibility ONLY.  Prior 4 member boards squandered huge amounts of cash with little to show. Lacking any money, for the near future the newly seated 13 panel board will only have the ability to say yes or no to the development. The City of Tucson will then have to arrange financing for the hotel which will ultimately require the citizens of Tucson to back stop the bonds.
With the greatest of feasibility projections, assuming a unattainable occupancy rate, an exorbitant bed rate and questionable market demand we will have a hotel that is costing us $180m to build which is worth $100m when completed. (based on an agressive 10% market captialization rate, typical for hotels).
How on earth do we get the politicians, community and newly installed Rio Nuevo over site board to approve such an scary endevor? We hire lobbyist that look like business and community leaders. Throw in a couple of ACTUAL board members on the decision panel and push it through.
Downtown ties

Among those expected to have some say in whether the hotel will be built:

• Michael Guymon

The former City Council aide was a paid lobbyist for the company when it was trying to win the hotel bid and after it was selected.

He later became executive director at the Metropolitan Pima Alliance, whose members include businesses, developers and governments. The organization, which calls itself, "your voice for reasonable and responsible development," is expected to make a recommendation on whether the hotel should be built.

Guymon said he disclosed his relationship with Garfield Traub before he took the job and says his contract is basically completed, although he said he will still earn a bonus if the hotel is approved.

• Larry Hecker

Local attorney Hecker chairs the public-private Tucson Downtown Partnership, which is charged with redeveloping downtown and has been actively involved in planning. He was a paid consultant for rival hotel bidder Lopez, whose deal to redevelop his downtown hotel later fell through.

Hecker said he always discloses his work for Lopez – who opposes the Garfield Traub development – whenever the issue comes up at the partnership. Hecker said he supports the idea of a downtown convention hotel, but said the finances for this one will be challenging. He said he doesn't see any circumstance where he would have a conflict.

• Jeff DiGregorio

The co-owner of the Royal Elizabeth Bed and Breakfast also is chairman of the Rio Nuevo board, which will vote on the hotel. A week ago, his business partner, Chuck Bressi, testified before the Rio Nuevo Board saying the new hotel is needed because it would help downtown businesses, including his own.

He didn't disclose to board members, many of whom were newly appointed and attending their first meeting, that his partner is the chairman of the board.

Bressi said he was speaking as an individual, exercising his First Amendment right to free speech. He said conflicts of interests happen "every time, everywhere," and many Rio Nuevo board members could have similar conflicts. He said he spoke not only about how the hotel will help his business, but Tucson as a whole.

DiGregorio said their bed-and-breakfast only has six rooms, so there's only so much of a boost the hotel could bring them. Besides, he said, he and Bressi are selling the business.

• Dan Eckstrom

The former Pima County supervisor was a paid consultant for Lopez in his bid for a downtown hotel. He is also a member of the Rio Nuevo board.

Eckstrom abstained from voting on the hotel when the issue came up last year. He said he's smart enough to know when he has a conflict of interest and would recuse himself.

• Fred Ronstadt

The former city councilman, now executive director of the Tucson Utility Contractors Association, is an "as-needed," paid consultant for Garfield Traub. Ronstadt said his consulting for Garfield Traub was "incredibly limited," mainly to provide knowledge of early Rio Nuevo history.

While the contractors he represents could work on the project, he said Tucson Utility Contractors Association members won't get much work on the hotel because it's mainly vertical construction, and his contractors do "horizontal" construction such as street work. The organization endorses Rio Nuevo as a whole but hasn't yet taken a position on the hotel.

• Brent Davis

The former city councilman, who has remained active in civic affairs and still has the ear of current decision-makers, is the lead consultant for Garfield Traub and hired Ronstadt and Guymon.
One of my relatives received a letter Tuesday from his primary-care physician announcing that he would no longer accept private insurance or government payment. This doctor is moving immediately to accepting only direct payment from patients for his services. This is just the beginning of a cascade of consequences from passage of the federal health care bill.
Here's some insight into things to come:
· Health insurance will get more expensive for most of us. A few unhealthy people will spend less because of federal subsidies. But two mandates make higher premiums inevitable: Everyone is guaranteed insurance coverage and everyone in your community will pay the same premium. Combine these requirements with the relatively modest IRS fine for not buying insurance as required by law, and it increases the likelihood that only the already-sick will buy coverage. Therefore, insurance premiums will increase.

· It will become harder to get health care. Many doctors, like my relatives physician, will stop taking insurance (private or government-run), or they will move to another country where we can visit them. Or they will just leave the profession, not wanting to deal with the intrusion that will accompany the new federal mandates. (Watch for  practices popping up like MDVip – you pay your doc $1500 for the privilege to see him/her)

· States will raise taxes. The federal law expands Medicaid and states are required to match federal funding for the program. States are not as free to borrow and they cannot print money like the federal government. Short of miraculous levels of revenue growth then, states will have to raise taxes to cover the new mandatory expense.
This will only be the beginning. We may not be able to see the ultimate end today, but one thing is certain: save for the few, health care in America just got a lot more expensive.
Dr. Byron Schlomach is an economist and the director of the Center for Economic Prosperity at the Goldwater Institute.
Learn More:
Cato Institute: Romney's Folly – Health-Care Mandates Are a Middle-Class Tax
Investor's Business Daily: To Repeat: Doctors Could Hang It Up
Brattleboro Reformer: The first step
Time magazine did one of the most comprehensive analysis' I've come across on what the health care bill means to you.  If you're a small business owner look for coverage for every employee. A tax credit if you have less than 25 employees and a fine if you have more than 50 and you don't purchase insurance.
Where are we going to get the medical care for 32 million more patients? Students aren't picking general medicine as a career because the pay sucks and the stress is high.
What's the new bill going to do to Medicare? Say good bye to the Medicare Advantage programs.
What's it mean to our state?
Hit the road Jack
The Following is a letter that I emailed to Jack Camper the President of the Tucson Chamber of Commerce. Most of you have heard about the calls for him to retire. I wanted to give him an opportunity to respond and share the positive things that they are doing to promote business on our radio station. He did respond to the email but has not agreed to appear on KVOI or to appear on the other talk shows that have been covering this story. I think it is time that Jack either step up and proactively represent the chamber or retire.
Dear Jack,
Since this controversy began I have been ambivalent about it. I know we have problems in Tucson and have been personally focused on changing the city council, but I don't know if the Chamber is part of the problem. I give our talk show hosts (Jim Parisi, Joe Higgins and Chris DeSimone) the same freedom news reporters have. I only step in if they violate FCC regulations (including moral and ethical issues). So I have stayed out of the controversy. I contacted you because I wanted you to be able to tell your story on Wake up Tucson or the Jim Parisi show. I contacted the hosts and they would like to have you on. I don't see the Chamber proactively attacking this controversy. It seems like you have adopted a bunker mentality. I think this is a mistake. If you were out there on the different talk shows (Jon Justice, Wake Up Tucson, Jim Parisi, KNST, John C. Scott) pitching the things you are doing it would not only resolve this issue, it would propel the Chamber forward. It reminds me of President Obama's stance to not go on Fox News. Certainly he feels more comfortable talking to "friendly" folks like Chris Mathews. But, if he crossed the line and went on Fox he would win over many who currently oppose him. Wake Up Tucson and Jon Justice have been pretty hard on Rodney Glassman. But, since Rodney went on their shows the buzz has changed. I am not involved with the people that are asking for your resignation, I am a member of the Chamber and have sponsored some of your events. I am not your enemy. You don't need to come on our talk shows, but you need to engage this controversy and turn it in to something positive. Otherwise it tells me that it is time for you to retire.
Looks like the house is going to pass the healthcare bill. Since this has been such a moving target I figured it was time to ask; what's in the healthcare bill?  Here's a break down from Associated Press:
(AP)  Congressional Democrats have released a final version of President Barack Obama's health care overhaul bill in advance of a House vote planned for Sunday. Some features of the legislation, which makes changes to the bill the Senate passed on Christmas Eve:
COST: $940 billion over 10 years, according to the Congressional Budget Office. (Perhaps a bit more than reported when you take in all the various aspects – from Christian Science Monitor)
HOW MANY COVERED: 32 million uninsured. Major coverage expansion begins in 2014. When fully phased in, 95 percent of eligible Americans would have coverage, compared with 83 percent today. (Of the uninsured 13 million are children, 70% of them are eligible for SCHIP or Medicaid but haven't enrolled – see below)
INSURANCE MANDATE: Almost everyone is required to be insured or else pay a fine. There is an exemption for low-income people. Mandate takes effect in 2014.
INSURANCE MARKET REFORMS: Major consumer safeguards take effect in 2014. Insurers prohibited from denying coverage to people with medical problems or charging them more. Higher premiums for women would be banned. Starting this year, insurers would be forbidden from placing lifetime dollar limits on policies and from denying coverage to children because of pre-existing medical problems. Parents would be able to keep older kids on their policies up to age 26. A new high-risk pool would offer coverage to uninsured people with medical problems until 2014, when the coverage expansion goes into high gear. (this is the one that scares me. How can you expand coverage to expensive pre-existing conditions, extend older kids coverage and not have an adverse effect on premiums. I guess they are planning on regulating premium increases too. Can you say price controls?)
MEDICAID: Expands the federal-state Medicaid insurance program for the poor to cover people with incomes up to 133 percent of the federal poverty level, $29,327 a year for a family of four. Childless adults would be covered for the first time, starting in 2014. The federal government would pay 100 percent of the tab for covering newly eligible individuals through 2016. A special deal that would have given Nebraska 100 percent federal financing for newly eligible Medicaid recipients in perpetuity is eliminated. A different, one-time deal negotiated by Democratic Sen. Mary Landrieu for her state, Louisiana, worth as much as $300 million, remains.  (The feds match each state dollar 2 to 1. Expanding Medicaid, one way or another, is going to put a big burden on the states.)

TAXES: Dramatically scales back a Senate-passed tax on high-cost insurance plans that was opposed by House Democrats and labor unions. The tax would be delayed until 2018, and the thresholds at which it is imposed would be $10,200 for individuals and $27,500 for families. To make up for the lost revenue, the bill applies an increased Medicare payroll tax to investment income as well as wages for individuals making more than $200,000, or married couples above $250,000. The tax on investment income would be 3.8 percent.
PRESCRIPTION DRUGS: Gradually closes the "doughnut hole" coverage gap in the Medicare prescription drug benefit that seniors fall into once they have spent $2,830. Seniors who hit the gap this year will receive a $250 rebate. Beginning in 2011, seniors in the gap receive a discount on brand name drugs, initially 50 percent off. When the gap is completely eliminated in 2020, seniors will still be responsible for 25 percent of the cost of their medications until Medicare's catastrophic coverage kicks in.
EMPLOYER RESPONSIBILITY: As in the Senate bill, businesses are not required to offer coverage. Instead, employers are hit with a fee if the government subsidizes their workers' coverage. The $2,000-per-employee fee would be assessed on the company's entire work force, minus an allowance. Companies with 50 or fewer workers are exempt from the requirement. Part-time workers are included in the calculations, counting two part-timers as one full-time worker. (Makes you want to run out and hire more employees huh? Watch for outsourcing, temp workers and jobs leaving the US. We are in a global market place, do you think India and China are mandating their companies to pay healthcare?)
SUBSIDIES: The proposal provides more generous tax credits for purchasing insurance than the original Senate bill did. The aid is available on a sliding scale for households making up to four times the federal poverty level, $88,200 for a family of four. Premiums for a family of four making $44,000 would be capped at around 6 percent of income. (Not bad, if you want more of something reduce taxes. The mortgage deduction has been a major tool to incentivising home ownership.)
HOW YOU CHOOSE YOUR HEALTH INSURANCE: Small businesses, the self-employed and the uninsured could pick a plan offered through new state-based purchasing pools called exchanges, opening for business in 2014. The exchanges would offer the same kind of purchasing power that employees of big companies benefit from. People working for medium-to-large firms would not see major changes. But if they lose their jobs or strike out on their own, they may be eligible for subsidized coverage through the exchange. (who subsidizes the coverage through an exhange? Who has the power to determine what's in the subsidized exhanges? Who has the power to let someone in or out of the exhange?)
GOVERNMENT-RUN PLAN: No government-run insurance plan. People purchasing coverage through the new insurance exchanges would have the option of signing up for national plans overseen by the federal office that manages the health plans available to members of Congress. Those plans would be private, but one would have to be nonprofit. (What? Private but subsidized and controled by government?)
ABORTION: The proposal keeps the abortion provision in the Senate bill. Abortion opponents disagree on whether restrictions on taxpayer funding go far enough. The bill tries to maintain a strict separation between taxpayer dollars and private premiums that would pay for abortion coverage. No health plan would be required to offer coverage for abortion. In plans that do cover abortion, policyholders would have to pay for it separately, and that money would have to be kept in a separate account from taxpayer money. States could ban abortion coverage in plans offered through the exchange. Exceptions would be made for cases of rape, incest and danger to the life of the mother.
GOP HEALTH CARE SUMMIT IDEAS: Following a bipartisan health care summit last month, Mr. Obama announced he was open to incorporating several Republican ideas into his legislation. But two of the principle ones – hiring investigators to pose as patients and search for fraud at hospitals and increasing spending for medical malpractice reform initiatives – did not make it into the legislation released Thursday. The legislation incorporates only one, an increase in payments to primary care physicians under Medicaid, an idea mentioned by Sen. Charles Grassley, R-Iowa. (Of course med malpractice didn't make it. Lawyers give more money to Democrats than any other group. Check out Open Secrets - do some digging)
Millions of Children Are Uninsured

SCHIP coverage
•

8.4 million children are uninsured

•

More than seven in 10 uninsured Hispanic children appear to be eligible for Medicaid or
•

2.9 million Hispanic children are uninsured4

•

More than seven in 10 uninsured children appear to be eligible for Medicaid or SCHIP
•

1.6 million African-American children are uninsured5

•

Two-thirds of uninsured non-Hispanic white children appear to be eligible for Medicaid
Most Uninsured Children Are Eligible for Medicaid or SCHIP Coverage

Medicaid or SCHIP coverage
•
More than eight in 10 uninsured African-American children appear to be eligible for
coverage.or SCHIP coverage.
Pages
Blogroll
Misc Links
Categories
Archives
Loading ...
Tags